For all your: -
Presentations, Product launches Corporate Identity, Promotions, Awards, Conferences, Incentives, Special Events, Exhibitions, Anniversaries, Change of Logos, Memberships and other Bright Ideas etc.

Product List
Lapel pins, badges, cufflinks, keyrings, brooches, tie tacs, stick pins, paperweights, medals, centrepieces, awards and figurines.

Materials
22ct, 18ct, 14ct, 9ct gold and sterling silver individually hallmarked and boxed to suit the occasion.
Base metal enamel: gold, silver, bronze antique gold & silver finishes.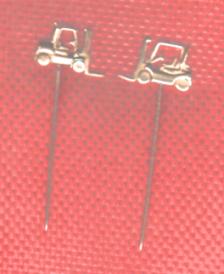 Notable Project
A national fork lift truck training centre wanted to present the people who passed their training courses with an award to commemorate their achievement. The courses were set at three levels so it was decided that a miniature fork lift truck was to be made that could be worn as a stick pin on a jacket lapel. They were produced in 9ct gold, sterling silver and bronze to signify each level.
To request more information on how House of Logos can help you, please click here

Unique Gifts, c/o House Of Logos (Est. 1975), 714 Attercliffe Road, Sheffield, S9 3RP,England - Telephone 0114 2434595